Win Print2Paints Award!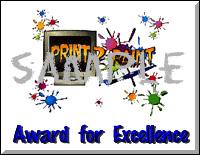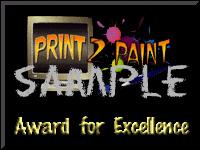 Have you worked hard on your website? Have you spent hours and hours trying to make your site appealing and filled it with great content? Is it ready to win awards? Then by all means, submit your URL to me, and I will have a look at it.
I am looking for visually appealing sites, good content, nice graphics, and sites that show hard work. Java Script used in the right way is fine, but too much is not. I am not impressed with your java scripts if it freezes my screen or crashes my computer. The same goes with music.
I am not impressed with a bunch of animated graphics that take an hour to load.
If you apply for an award, and don't win it, please don't despair. Just improve it a bit and try again. I am not so hard to please.



Please fill out this form, and I will review your site. It could take a few weeks. If you win the award, it will be sent to you in your email.