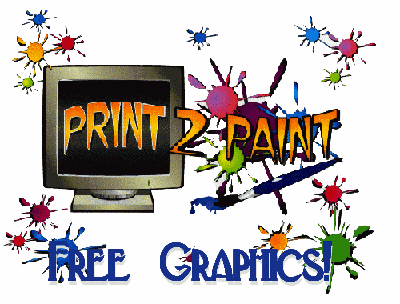 Print2Paint is my gallery on the web showcasing my many and varied talents. I hope you will also visit there. Print2Paint Also offers Free Graphics for your personal (non-commercial) webpages. A lot of work went into every graphic in these pages, so I must lay down some terms for use.

Do NOT link to these graphics, download them to your own server please. Webguard is on the job.
Do not add any of these graphics to any 'collection' or use them for any monetary profit. If you have a commercial site, or are a web designer, and you want to use something, we can work out a fair deal. Contact me, or Brenda .
Do not change or manipulate these graphics in any way. You can add your text to the blank buttons, but nothing else please.
If you decide to use any of these graphics, please provide a link back to this site. You can use a text link, or one of the images here. Please link to the main page only: https://members.tripod.com/~Print2Paint/

You may use only the free graphics, the graphics used for my pages are not included.


New graphics are being made all the time. As this is a new site, there are not a whole lot here yet. So please keep checking back.