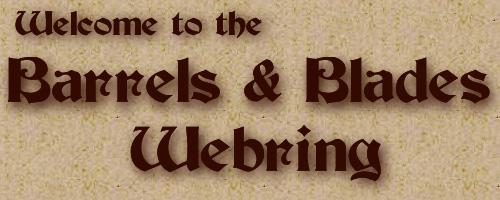 This is the members area for the Barrels and Blades Webring. From this page you can edit your site info, regenerate your code for your page, and check the webrings stats.

Edit Site Info - If your email, information, or site url changes, go here to change it for the webring. Enter your Site ID # and password. You will be shown the information you gave when you first joined. Change anything you need to here. You can add keywords and change the wording of your sites description here too.

Generate your personalized html code - If you need to get your code again, for whatever reason, you can do it from here. This link takes you to same page as above. Just enter your ID # and password, and your code will regenerated for you. You will find it at the bottom of the page.

Get your Password - Did you forget your password? Click here to get it.

List of Members Sites - If you have forgotten your Ring ID #, you'll find it here. Just scroll to find your site, and your ID # will be beside it. You can also keep up with how many sites are in the ring here, and who has joined.

Check the Rings Stats - You can find all the rings stats here. This page will tell you how many hits the webring has received, how many people clicked on 'Next Site', which site has generated the most hits for the webring, and which site has received the most hits from the webring.


Webring Index | Join Webring | Members Area
Ringmasters Webpage


Click to find out how to get your own business website!


Website Design, contents and graphics are ©copyrighted by Print2Paint or Babe's Web Design