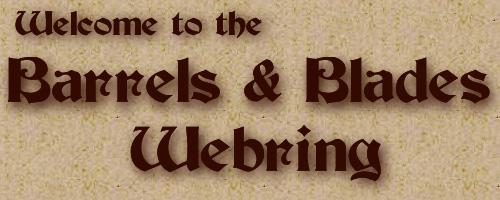 The Barrels and Blades Webring was created for gun and knife lovers on the web. This webring was created to link together collectors, custom makers, designers, maufacturers, sellers and fans of guns and knives on the WWW. The Barrels and Blades Webring is the first of this sort, and my goal is to make it one of the best on the web.
Here is how a webring works. A webring links together, in a ring, sites with something in common. People join the ring, place the webrings graphics and code on their page, and when activated, the sites are linked together. When someone wants to surf pages that all about one thing in particular, in this case guns and knives, all he or she has to do is click to go to the next site in the ring. Surfers like them because it is an easy way to surf sites that have their interest in common, and webrings generate lots of hits for people who have joined.

This webring is to bring together sites of collectors, makers, and artists of guns and knives. This webring is not about illegal activities, killing, hatred, porno, or weapons for death and destruction. This ring will not accept sites of that type.

Both commercial and non-commercial sites are welcome.

After filling out the form, your site will be placed in the webrings 'queue', until it is activated. It will sit in the queue for 14 days (two weeks). If you have not placed the webrings html fragment on your page in this time, it will be automatically removed. You can rejoin the ring if you like. This feature is to weed out the sites who join but never add the code, so I can keep up with it.

The webrings html fragment must be placed either on the main page of your site, or on a 'Webrings' page with clear navigation to the webrings page on your main page. The webring must be easy to find and access.

Any site can be removed from the ring at any time, for whatever reason.

Read the rules. This will keep me from having to turn down a site, or remove it.

Download the webring graphics shown below. Hold your cursor over the graphic, right click, and choose 'save as' from the pop-up menu. Save them in the folder where your webpages' files are at.

Fill out the form below. Check your spelling. Make sure your information is correct. All fields except for the keywords must be filled in. Double check your URL and Email addy to make sure there are no typos. Click send.

After filling out the form, you will be taken to a page with your information and the code to copy and paste into your page. You will be given your site ID #. You will need this in the future. Copy or write down the information before you do anything else, and save it where you will be able to find it again. You will also be given your html ring fragment. Copy the html fragment, and paste it into the html of your page. Upload the site. Make sure that the graphics are showing. To see how the webring should look, go back to the Webrings Home Page.

Finally, send me an Email and let me know that your sites webring is ready to be activated. When I get your email, I will check your site to make sure all is well, and then I will do the magic click to get your ring activated.
AOL Members - There are special instructions to make your graphics show. Read the instructions written in AOL users help, for the HawgCrazy! Webring. The same instructions will apply here.


Here are the two webring graphics. Right-click on the graphics and choose 'save as' to save them to your own hard drive. Be sure to save them in the same folder with your other webpage files.

| | |
| --- | --- |
| | |
| 180x135 | 160x135 |



Fill out the following form.
Remember to double check your URL and Email for typos and spelling errors.



Webring Index | Join Webring | Members Area
Ringmasters Webpage


Click to find out how to get your own business website!


Website Design, contents and graphics are ©copyrighted by Print2Paint or Babe's Web Design